I saw the headline while searching for an explanation as to why Kasich will not drop out.  Found it hard to believe, well it is true!
Kasich's only chance to win the nomination is by dropping out.  If he stays in Trump likely will get enough.  And if not, Kasich will be damaged goods by helping Trump by staying in.
Then found this story, and from many different sources, some of which are well known.
THIS Major GOP Presidential Candidate (Kasich) Took $588,375 From George Soros!
As "moderate" Ohio Governor John Kasich continues to remain in the Republican race, his PAC "New Day for America" just received a major donation that's raising eyebrows among conservatives.
Soros fund managers Scott Bessent and Stanley Druckenmiller donated $488,375 to the Governor's so-called "soft money" fund, according to records provided by the Federal Elections Commission (FEC).
George Soros, who has spent billions of dollars creating and funding far-left organizations such as MoveOn.org, ACORN, and countless pro-amnesty organizations. After donating countless amounts of money to Congressional Democrats, Soros just handed a pro-Hillary Clinton PAC $8 million.
Soros was recently quoted about his expanded efforts to oppose more border security… "We must reaffirm our commitment to the principles of open society and resist the siren song of the likes of Donald Trump and Ted Cruz, however hard that may be," Soros opined.
Kasich, who presents himself as the reasonable voice in the Republican primary, has clearly caught the interest of the left's top donor and his allies. But why? This is sinister…
Read more: http://www.thepoliticalinsider.com/major-gop-presidential-candidate-took-588375-george-soros/#ixzz43TYRm9Ta
Why have George Soros and his surrogates given John Kasich's campaign $700,000?
Although it is now a mathematical impossibility for Governor Kasich to reach the necessary 1,237 votes to win the GOP primary nomination outright, the Ohio Governor has vowed to stay in the race, betting on a brokered convention along with a suspension of the convention's rules to clinch the nomination.
As a point of explanation, Governor Kasich is not only mathematically shut out of the nomination based on delegates, but also on the fact that a candidate must win at least 8 states before he can be considered for the convention's ballots.  This appears highly unlikely given the Governor's 1-28 record to date.
However, there may be a different reason for Governor Kasich to remain in the race, and that can be discovered by following the trail of his donors.
A simple search of Governor Kasich's 2016 Presidential campaign donations lists the Soros Fund Management as the sixth highest individual donor with $202,700. The seventh largest donor is the Duquesne Family Office with $150,000.  On the Super PAC side, Kasich's New Day for America received $150,000 from Stanley Drukenmiller (who operates the Duquesne Family Office) and $200,000 from Scott Beset, who is employed by the Soros Fund Management.
https://www.lifesitenews.com/opinion/why-has-george-soros-given-john-kasichs-presidential-campaign-700000
The below report JMHO gets in all wrong, Kasich can not hurt Trump, he can only help him by staying in. And the street mobs do not hurt Trump, they help Trump.   The real reason?  JMHO Soros is trying to get Hillary elected, and the polls agree Cruz does better than Trump against Hillary,
General Election: Trump vs. Clinton
| Poll | Date | Sample | MoE | Clinton (D) | Trump (R) | Spread |
| --- | --- | --- | --- | --- | --- | --- |
| RCP Average | 2/11 – 3/6 | — | — | 47.3 | 41.0 | Clinton +6.3 |
General Election: Cruz vs. Clinton
| Poll | Date | Sample | MoE | Cruz (R) | Clinton (D) | Spread |
| --- | --- | --- | --- | --- | --- | --- |
| RCP Average | 2/10 – 3/6 | — | — | 46.2 | 45.4 | Cruz +0.8 |
  http://www.realclearpolitics.com/epolls/2016/president/2016_presidential_race.html
REPORT: Soros Money Funding John Kasich's Presidential Bid
As new reports break that a George Soros-linked group is taking credit for efforts to violently disrupt GOP frontrunner Donald Trump's campaign rallies, the Center for Responsive Politics reveals that another George Soros-linked group is coordinating another furtive operation to stop Trump by financing the campaign of John Kasich.
According to the Center for Responsive Politics, Soros Fund Management is one of John Kasich's top financial contributors.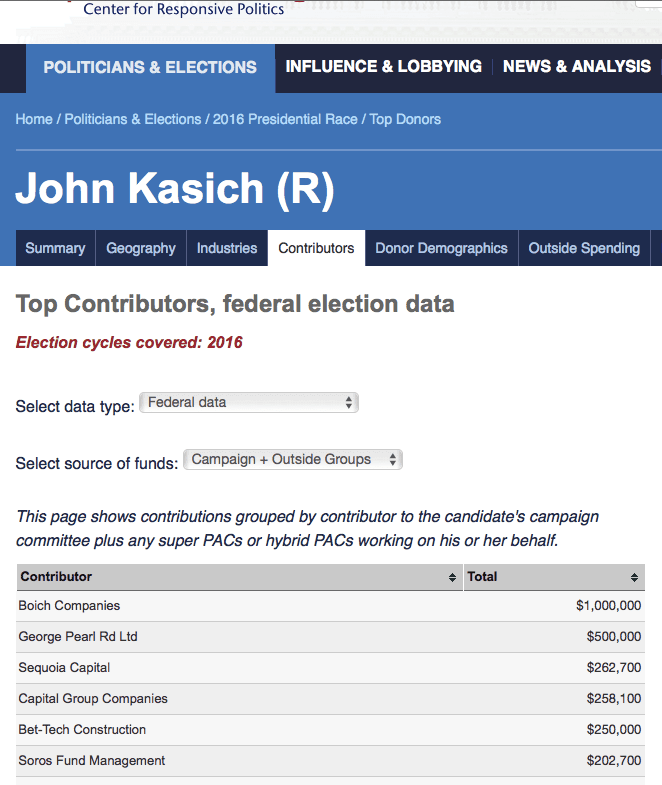 George Soros–a liberal progressive donor– has been a top funder of the push to open America's borders. According to a 2013 CNS News report, "Soros's Open Society Foundation proudly claimed to have given $100 million dollars to 'immigrant rights' projects in the United States." According to the report, those that have been the beneficiaries of that $100 million include La Raza (Soros funding $2.4 million), the Immigrant Legal Resource Center (Soros funding $1.6 million), as well as Amnesty International (Soros funding $844,088) and Immigration Equality (Soros funding: $301,667).