BY RYAN SMITH ON 11/30/21 AT 11:22 AM EST01:12Jussie Smollett Trial: What To Know As Actor Faces Charges He Faked Racist AttackSHAREShare on FacebookShare on TwitterShare on LinkedInShare on RedditShare on FlipboardShare via EmailCommentsCULTURECOURTCHICAGORACISMHOMOPHOBIA
The opening day of Jussie Smollett's trial—in which he stands accused of staging his own alleged racist and homophobic attack—may have already sown the seeds for a guilty verdict against the actor, according to a defense attorney.
Former Empire star Smollett, 39, had alleged that he was attacked on the streets of Chicago on January 29, 2019, by two supporters of former President Donald Trump, who he alleged tied a noose around his neck and poured bleach on him.
His claims were challenged by brothers Abimbola and Olabinjo Osundairo, who alleged that the actor and singer had paid them $3,500 to stage the attack.READ MORE
Smollett was subsequently arrested on charges of lying to police officers, before the charges were dropped in March 2019.
Following an investigation into why the charges were dropped, Smollett was charged in 2020 with disorderly conduct, a Class 4 felony that could result in up to three years in prison.
Smollett has maintained his innocence throughout.Previously Dismissed Charges Could Help Jussie Smollett's CaseREAD MOREPreviously Dismissed Charges Could Help Jussie Smollett's CaseNEWSWEEK SUBSCRIPTION OFFERS >
And while Smollett's defense attorney Nenye Uche stated in court that the star was the "real victim," special prosecutor Dan Webb told the jury that the actor had orchestrated the attack because he was allegedly upset with how Empire broadcaster Fox had reacted to a racist letter that was sent to him.
Additionally, Webb told the jury, surveillance video and still footage showed Smollett walking into his apartment with a sandwich after the alleged attack.
Criminal defense lawyer Julie Rendelman has told Newsweek that the prosecution's efforts to show motive in this case could lay the foundation for Smollett being found guilty, should the jury take it into consideration.
She said: "The prosecution, in its opening statement, effectively laid out a series of facts they intend to present to the jury to support the charges, which includes the two other co-conspirators, the payment of $3,500, video surveillance and a motive for why he would commit such a crime.
"While the prosecution is not required to provide a motive, if the jury buys that such motive exists, it can go a long way in bringing the jury to a guilty verdict."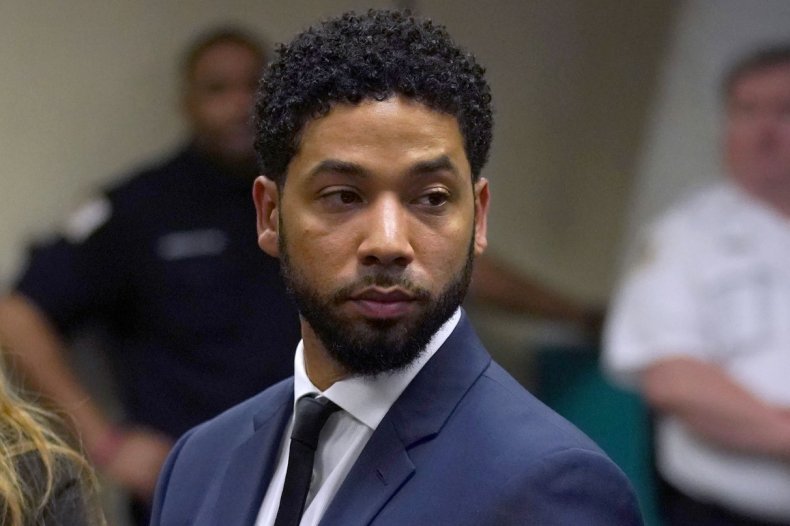 While Smollett has been accused of giving the Osundairo brothers cash to buy rope and red "Make America Great Again" caps favored by Trump supporters, the actor's defense attorney Uche branded such conclusions illogical.
"At the end of the day, they want you to believe Jussie was stupid enough to pay for a hoax with a check but was smart enough to pay (for supplies) with a $100 bill," said Uche on the opening day of the trial.
Uche also countered the prosecution's allegation that Smollett had orchestrated his own attack in a move against Fox Studios, stating that the actor had declined an offer for additional security from the studio.
Analyzing the approach of Smollett's legal counsel, Rendelman—a criminal attorney in both federal and New York state courts—told Newsweek: "The defense countered the prosecution claims as expected, questioning the motive, the credibility of the co-operators and portraying Smollett as the true victim.
"The real question is whose version of the facts will pan out as the trial unfolds, keeping in mind that the prosecution has the ultimate burden of proof."