The Vatican almost always opposes military solutions, This is an exception to normal policy for the Vatican.
Pope Francis on Monday said efforts to stop Islamic militants from attacking religious minorities in Iraq are legitimate but said the international community — and not just one country — should decide how to intervene.
Francis was asked if he approved of the unilateral U.S. airstrikes on militants of the Islamic State group, who have captured swaths of northern and western Iraq and northeastern Syria and have forced minority Christians and others to either convert to Islam or flee their homes.
"In these cases, where there is an unjust aggression, I can only say that it is licit to stop the unjust aggressor," Francis said. "I underscore the verb 'stop.' I'm not saying 'bomb' or 'make war,' just 'stop.' And the means that can be used to stop them must be evaluated."
Francis also said he and his advisers were considering whether he might go to northern Iraq himself to show solidarity with persecuted Christians. But he said he was holding off for now on a decision.
The pope's comments were significant because the Vatican has vehemently opposed any military intervention in recent years. Pope Paul VI famously uttered the words "War never again, never again war" at the United Nations in 1965 as the Vietnam War raged, a refrain that has been repeated by every pope since. St. John Paul II actively tried to head off the Iraq war on the grounds that a "preventive" war couldn't be justified. He repeatedly called for negotiations to resolve the crisis over Iraq's invasion of Kuwait a decade prior.
Francis himself staged a global prayer and fast for peace when the U.S. was threatening airstrikes on Syria last year.
But in the aftermath of the Sept. 11 attacks — in the Vatican's mind an "unjust aggression" — John Paul defended the "legitimate fight against terrorism," and the right of nations to defend themselves against terrorist attacks. He did though call for restraint and the Vatican subsequently focused its position on emphasizing the need to eradicate the root causes of terrorism: poverty and oppression.
Recently, the Vatican has been increasingly showing support for military intervention in Iraq, given that Christians are being directly targeted because of their faith and that Christian communities, which have existed for 2,000 years, have been emptied as a result of the extremists' onslaught.  AP/ABC read more: abcnews./wireStory/pope-oks-protecting-iraq-minorities
The UK Guardian has reported other Christian leaders calling for help:
Archbishop Athanasius Toma Dawod of the Syriac Orthodox church said that Isis's capture of Qaraqosh, Iraq's largest Christian city, had marked a turning point for Christians in the country.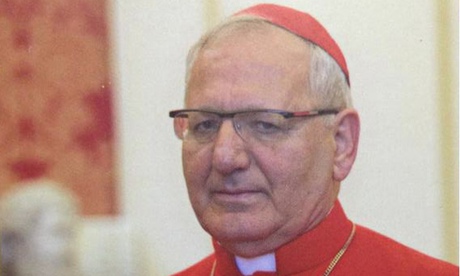 "Now we consider it genocide – ethnic cleansing," he said. "They are killing our people in the name of Allah and telling people that anyone who kills a Christian will go straight to heaven: that is their message. They have burned churches; they have burned very old books. They have damaged our crosses and statues of the Virgin Mary. They are occupying our churches and converting them into mosques."
The archbishop, who leads the Syriac Orthodox church in the UK, urged the UK government to open the country's doors to those fleeing the violence. "We are dying, 100%," he said. "The British government needs to help people and to give them asylum. If they stay here, they will be killed."
His pleas were echoed by Patriarch Louis Sako, the Iraq-based leader of the Chaldean Catholic church, who said that about 100,000 Christians had abandoned their villages in the Nineveh plains earlier this week after Isis launched mortar attacks. He asked the EU and the UN to help them before it was too late.
"They fled their villages and houses [with] nothing but … the clothes on their backs," he said in a statement to the charity Aid to the Church in Need. "[It is] an exodus, a real via crucis; Christians are walking on foot in Iraq's searing summer heat towards the Kurdish cities of Irbil, Duhok and Soulaymiyia, the sick, the elderly, infants and pregnant women among them. They are facing a human catastrophe and risk a real genocide."
Cardinal Vincent Nichols, the leader of Roman Catholics in England and Wales, described Isis's treatment of Christian, Yazidi and other communities as "a persecution of immense proportions" and urged the UK government to act.
The archbishop of Canterbury, Justin Welby, also called on the UK to follow other European governments by helping to protect Iraq's Christians and other minorities.
"It is extremely important that aid efforts are supported and that those who have been displaced are able to find safety," he said.
"I believe that, like France, the UK's doors should be open to refugees, as they have been throughout history."
However, Wilson Jaso, president of the UK Assyrian Society, was deeply pessimistic about the international community's slow response to the persecution.
"If we're not protected soon, there'll be none of us left in the country – which is our country – and no churches," he said.
"Obama has to act, as simple as that. The problem is that the Christians don't have oil. If we had oil, everyone would protect us."Urgent appeals for help also came from the leader of the Syrian Kurdish party whose fighters are resisting jihadist attacks in northern Iraq.