The looting and riots in Ferguson, which were immediately condemned by Michael Brown's mother, were not condemned by many politicians and media figures.  Instead many statements after the rioting started, focused on expressing understanding towards the rioters.  Whereas what happened  in the death of Brown is still not known clearly, it is known clearly that the rioters are criminals with no excuse, that are making life worse and more unjust for everyone in the city.  Even Brown's mother alluded to that, saying she was afraid to go to her own home, due to the rioting.   Now another person has been shot.
This is very much like the LA riots,  that unjustly murdered so many innocent people.  By public figures expressing understanding, not condemnation, it encouraged the rioters, and though not meant to, it recruited more rioters.
The two Senators for Missouri put out these statements.
"I am fully supportive of County Executive Charlie Dooley and St. Louis County Police Chief Jon Belmar calling for DOJ and the FBI to take a careful, open review of the events that led to this tragedy for everyone involved." Senator Blunt.
Police shoot another man as riots continue in St. Louis suburb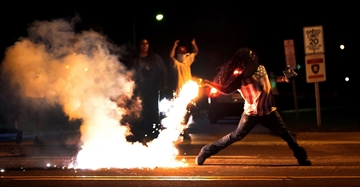 SHOOTINGS
Robert Cohen,McClatchy-Tribune
A demonstrator throws back a tear gas container after tactical officers tried to break up a group of bystanders early Wednesday in a riot-torn St. Louis suburb
FERGUSON, Mo. A St. Louis County police officer has reportedly shot and critically wounded a man who police say pointed a handgun at the officer early Wednesday in Ferguson, Mo., where the fatal shooting of an unarmed young black man by an officer has triggered demonstrations, street clashes and looting.
A woman was also shot in the head and wounded during the area'a sporadic street demonstrations overnight, Ferguson Police Chief Tom Jackson told the Los Angeles Times. He also confirmed the separate officer-involved shooting, but said that incident was being handled by St. Louis County police.
The officer-involved shooting, which occurred at 1 a.m. CDT, occurred near the site of protests against police in the shooting of Michael Brown, St. Louis County police told local media outlets.
More at: http://www.thespec.com/news-story/4756760-police-shoot-another-man-as-riots-continue-in-st-louis-suburb/